I'm going to do a couple of these posts today as several of my affiliate peeps are doing some flash sales! All the links in here are affiliate links, so you are warned. If you're interested but want to avoid paying me, then just google for what you're after 🙂
So if you've been interested in Leonie's stuff and maybe this is your reminder – now's a great time to buy! 50% off a bunch of stuff, and she usually increases her prices annually, so this might be the cheapest chance to buy in.
I've followed Leonie for about ten years now, through various iterations of her business and community, and her stuff is accessible, friendly, and fun as well as solid. She likes to swear and she's a massive introvert with great boundaries who is super open about her income, her strategies and her self.
If you're looking for a fabulous example of artist gone rich and wild, check her out! The image below is to the current sale, and the other images will take you directly to the course pictures.
Money, Manifesting and Multiple Streams of Income is a course that I have seen in earlier, smaller variations, and I'm excited to be buying this one today! I listen to Leonie's podcast where she goes through her income each month, where it's come from, where it's going and her goals, aims, misfires and wins. It's a great podcast to listen to, and she certainly does know her stuff. I trust Leonie, and after my experiences with her 40 Days to Create and E-Course, I know her training materials work.
---
Oh no. I should be buying this one instead! If want to learn how she writes million dollar copy, this is the one for you. Er. Me. Maybe. Gosh darn it, I need to check my account balance. She's sold over 11 million dollars of stuff. This is where we find out the mechanics of the writing she uses to do so.
Is it bad of me to think 'Oh thank goodness, one I don't want to buy!' If, unlike me, you have problems writing then Leonie will have heaps of ways to get you going. I have no idea exactly what she does, but I would expect some laughs, some swearing, and her telling you to get your head out of your own ass. She tells you that a lot. Because I did buy…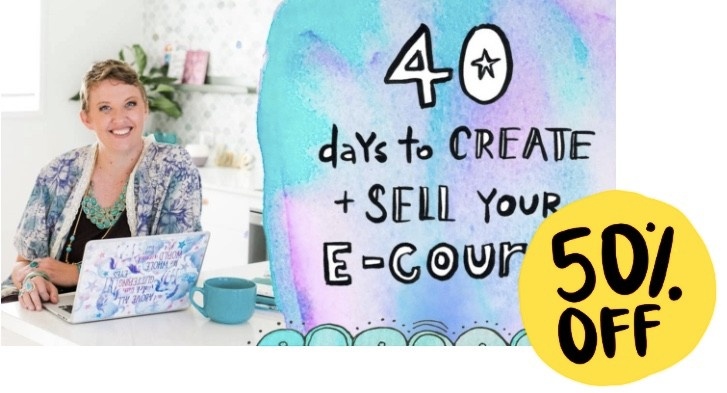 and I love it. Sometimes I like to listen to the group calls ("Remember, don't get ya head stuff up ya arse") while I'm doing other things. I've learnt heaps about how to publish courses online, and there's also heaps of tips, tricks, shortcuts and cost effective suggestions. I know where to get cheap or free transcriptions, how to create artwork and digitise it, putting together the work to create a product, pricing, marketing, all of these courses are a full bundle that's worth going into again and again.
Now is a great time to jump off the fence if you've been thinking about it. If you have questions just email me. 🙂
Register to Join My Mailing List!
Specials are announced through my email list first! Join now to stay in the loop!
For a central hub of Sarah-ness, join my email list and you'll get a newsletter with summaries, links and news. I'm aiming for weekly but don't hold your breath!